Severe Tropical Cyclone Debbie to impact the Queensland Coast today
28/03/2017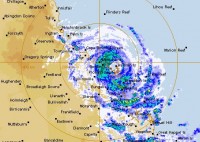 Severe Tropical Cyclone Debbie intensified to Category 4 strength overnight, and has maintained this strength as it approached the coast.
The Bureau will continue to update its tropical cyclone advice and track maps including the use of the Standard Emergency Warning Signal, as the system approaches the coast and moves overland at tropical cyclone strength.
Queensland Regional Director, Bruce Gunn, said the cyclone has slowed down over Hayman Island, and will cross the coast between Bowen and Proserpine this afternoon.
"Estimated sustained wind speeds are at the upper end of Category 4 strength in the range of 185-195km/h, with peak gusts to 270km/h. A peak gust of 263km/h been recorded at Hamilton Island today.
"Gales are forecast to impact communities between Lucinda and St Lawrence and inland to Mount Coolan and Moranbah for up to 36 hours after the system makes landfall," he said.
Although the strongest winds are near the core, damaging and very destructive winds can extend several hundred kilometres from the cyclone's centre.
Storm surge is a risk factor with severe tropical cyclones, and if the cyclone crosses the coast around high tide this will enhance these effects. Sea levels have exceeded the highest tide of the year at Shute Harbour and Laguna Quays.
The Bureau is also warning for abnormally high tides, large waves, storm surge and rough to phenomenal seas.
"Severe Tropical Cyclone Debbie will deliver significant rainfall as it tracks over land, with flooding another major impact of the system. This is a dynamic and changing flood situation, please check the Bureau's website for the latest warning information," Mr Gunn said.
Widespread daily rainfall totals between 150-250mm are expected with the passage of the cyclone, with isolated falls in excess of 400mm possible along the coastal fringe.
Observations in the Mackay region (in the 24 hours to 9am, Tuesday, 28 March 2017) include: 470mm at Mount William, 340mm at Clarke Range, 232mm at Mt Jukes and 226mm at Sarina.
Queensland Fire and Emergency Services are urging the public to:

Stay tuned for the latest official forecasts and warnings from the Bureau, and follow the advice of local emergency services.
Continue to shelter in the strongest part of your house and keep your emergency kit close by.
It will not be safe to go outside for many hours after the cyclone passes. Do not be fooled by the calm eye of the cyclone.
Avoid travel, if possible. Remember: if it's flooded, forget it.
The Bureau's Tropical Cyclone Warning Centre in Brisbane operates 24 hours a day, 7 days a week with forecasters monitoring the situation and providing the latest information for emergency services, media and the community.
Follow us on Twitter @BOM_Qld and remember www.bom.gov.au remains the most up-to-date and comprehensive official source of information.
For further information go to: www.bom.gov.au/cyclone