Tropical cyclone watch issued for the Northern Territory
15/03/2018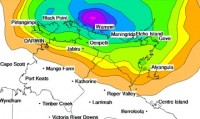 The Bureau of Meteorology has declared a cyclone watch for areas of the northwest Top End in the Northern Territory.
The Bureau's Acting Northern Territory Manager Jude Scott said the watch related to a tropical low weather system 250km north of the Tiwi Islands, which was expected to intensify into a category one cyclone on Friday evening as it moves southeast.
The system could bring wind gusts of up to 125km/h and heavy rainfall to areas from Milingimbi to Daly River Mouth, including the Tiwi Islands and Darwin.
Impacts on Darwin are expected late on Friday evening with the potential for up to 200mm of rainfall in 24 hours.
"Gale force winds and heavy rain at this time of year could result in some trees coming down, and possible disruption to power, telecommunications and transport routes," Ms Scott said.
A Flood Watch will also be issued for northwest coastal rivers this afternoon.
Residents in affected areas should listen to the advice of emergency services and follow preparation guidelines set out by the Northern Territory Emergency Service.
Download the BOM mobile app for current weather and warnings and follow us on Twitter @BOM_NT.
The Bureau of Meteorology has also released a severe weather video update on this event. The video and transcript are available in the Bureau's newsroom.
An audio news release on this event can also be downloaded.