Observers blown away by Maatsuyker Island's weather
03/04/2018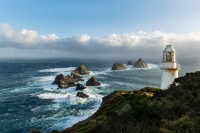 Known as one of the windiest observation sites in Australia, Maatsuyker Island isn't for the fainthearted.
With gusts of over 100 km/h reported to occur roughly 68 days a year – by comparison Hobart will see around five days a year – the island's weather definitely provides an experience you won't forget.
Fisherman, Paul Richardson, and visual artist, Amanda Walker, saw this for themselves as weather observers on the island and have recently published a book Maatsuyker through our eyes to share just what it's like to live and work in such an exciting weather environment.
"I had never had the opportunity to see the weather at its most extreme, and the island delivered," Mr Richardson said.
"Maatsuyker is the weather; we were living and working in the weather every day so we go into detail in the book about the weather we experienced, what was involved in recording the weather, and working with the technicians who came to the island."
The pair were engaged by the Bureau of Meteorology for daily weather observations while undertaking a six month caretaking role on Maatsuyker Island, a volunteer program run by the Tasmania Parks and Wildlife Service, and have detailed their time on the island.
Stationed on Maatsuyker Island from March to September in 2015, Paul and Amanda experienced one of the coldest winters in decades with no heating, saw amazing swells, recorded winds up to 185 km/h, and captured plenty of lightning strikes, including one that made a direct hit on the 124-year-old lighthouse.
But it was the wind that Maatsuyker Island is so well-known for that Paul and Amanda considered to be the most notable weather difference from mainland Tasmania.
"That and how quickly the weather could change," Ms Walker said.
"Also, even though we went weeks without the temperatures getting into double figures, it never got below about 3.5 degrees celsius."
Maatsuyker Island, which is located approximately 10 kilometres off the south west coast of Tasmania, has relatively stable temperatures because of the moderating effects of the sea.
Most winter nights are between six and nine degrees celsius, rarely dropping bellowing three degrees celsius, while most winter days reach between 10 and 14 degrees celsius and are rarely cooler than eight degrees celsius or warmer than 16 degrees celsius.
Twice daily observations taken for rain, wind, sea swell and temperatures are recorded in a station log by the observers and also sent digitally to the Bureau of Meteorology to assist in forecasting and long-term understanding of Australia's climate.