WEATHER UPDATE: Tropical Cyclone Iris
04/04/2018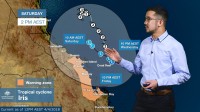 METEOROLOGIST, JONATHAN HOW: Hello again from the Bureau with an update on tropical cyclone Iris off Queensland's east coast.
Iris continues to move southeast and roughly parallel to the Central Coast. On Wednesday morning Iris was a Category 2 system, approximately 200 km to the northeast of Hamilton Island, and it is starting to weaken.
Over the past 24 h, the heaviest rainfall has occurred on the system's southern flank, particularly between Bowen and Hamilton Island, and Preston recorded in excess of 100mm. Hamilton Island Airport reported wind gusts of 104 km/h on Wednesday morning, with similarly strong winds further offshore.
For the remainder of Wednesday, Iris will continue moving south-east, but is no longer expected to intensify to a Category 3 system. Instead, it should weaken to a Category 1 system by Wednesday evening, and then back to a tropical low on Thursday. The tropical low should then curve around and adopt a north-westerly track, but remain slow-moving into Friday and Saturday.
A Tropical Cyclone Warning extends from Bowen down to Shoalwater Bay for gales within the next 24 h, and this does include Mackay and the Whitsunday Islands. A Flood Watch is also current for catchments between Ayr and St Lawrence for possible river flooding. River level rises were recorded within the Watch area overnight on Tuesday, but at this stage remain below minor flood levels.
There is a degree of uncertainty with Iris' movements over the coming days. Even if Iris does weaken to below tropical cyclone intensity, severe weather could still be experienced along the Central Coast for the rest of the week, and severe weather warnings may be issued, so keep a look out for these if you are in the region.
Please continue to follow the advice of your local emergency services. Stay up to date with the latest forecasts and warnings via the Bureau website, app or you can follow us on Twitter.