WEATHER UPDATE: 2nd update on Cold front for southeastern Australia
09/05/2018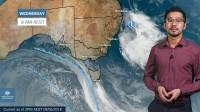 METEOROLOGIST, JONATHAN HOW: Hello from the Bureau, with an update on the cold snap on the way for south-eastern Australia, which will be an early taste of winter with cold, wet and windy conditions.
Of particular interest will be the rainfall, especially given a dry autumn. There's now better agreement between the computer models that the heaviest rain will be focussed through Gippsland and eastern Tasmania. As these three models show, we could see isolated higher four-day totals of 100-150mm. Flood watches are already current or will be issued for the expected river rises.
The initial cold front is moving in from the Southern Ocean, and Adelaide, Melbourne and Hobart will all see showers develop on Wednesday.
But the coldest air is behind this front with a complex low pressure system. Thursday will mark a significant drop in temperature, with rain, showers, possible thunderstorms and small hail and snow down to 800m. It will also be windy, particularly over south-east South Australia and western Victoria. Severe weather warnings and sheep grazier warnings will be issued across multiple states over the coming days, so keep an eye out for these.
Another cold day on Friday as the rain extends into eastern Victoria, but it's looking like Melbourne will now lie on the fringe of the heavier rain. People in Central Victoria and Tasmania will however experience bitterly cold gale-force southerly winds which could generate dangerous coastal conditions.
Friday will also see that cold air contract out of Tasmania and push up into New South Wales and the ACT, and significant snow is possible as far north as the Central Tablelands. And just 9 degrees for Canberra, their coldest day for the first half of May since 1970.
Rain will really increase across Gippsland through Friday and into Saturday, but the position of the low will be crucial in determining which areas receive the most rainfall. Temperatures will gradually start to rise as conditions ease from the west, but it will remain windy, especially across the ranges and coast of New South Wales.
And into Sunday, strong winds along the New South Wales coast are likely to generate hazardous surf conditions.
So with this wintry weather on the way, you can stay up to date with the latest warnings by going to our website, app, or you can follow us on Twitter.