WEATHER UPDATE: Cold snap across southeast Australia
11/05/2018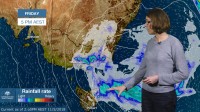 Meteorologist Sarah Fitton: Hello from the Bureau with an update on the southeast cold snap.
Southeast Tasmania recorded some exceptionally high rainfall totals overnight, as a series of intense storms tracked east to west on the southern side of a powerful low pressure complex.
43mm fell in Hobart in just one hour last night and rainfall has resulted in flash flooding and river rises through the southeast. The eastern half of Tasmania is on Flood Watch and Minor Flood Warnings have been issued for multiple catchments.***
Wind gusts have exceeded 100km/h at many locations in Tasmania and southwest Victoria. And while rainfall totals to 9am this morning have been lower through Victoria, they are set to increase today and tomorrow. A Flood Watch has been issued for Gippsland and the Upper Yarra.
The cold snap also lowered the snow level overnight down to around 700m on the mainland and some towns in the Central Tablelands of NSW awoke to a dusting of snow.
Today we have severe weather warnings still covering large areas of south eastern Australia.
The heavy rain and strongest wind gusts in Tasmania are contracting northward this afternoon and will clear the remainder of the state this evening.
Through Victoria heavy rainfall is expected over central areas this afternoon, extending to Gippsland and Alpine areas later this evening as the low pressure complex moves east. Damaging winds could lag behind the heaviest rain; the strongest winds in Melbourne are expected this afternoon and early evening.
Through NSW rainfall totals will be lower but winds may reach gale force strength with damaging wind gusts about the ranges and southern coastal parts. Hazardous surf conditions are expected to develop later tonight over southern coastal waters.
***By Saturday the heavy rain and damaging winds will have contracted to East Gippsland and Alpine Victoria as the low pressure complex continues to move eastward. A further 50 to 100mm of rain is expected, with isolated totals of up to 150mm.
Through NSW damaging winds will start to ease on Saturday. Damaging waves in excess of 5 metres are possible on Saturday morning along stretches of the coast south of Kiama, while hazardous surf conditions will extend further northward over the weekend.***
So while this cold snap continues, stay warm, stay safe and follow all advice from emergency services. You can stay up to date with the latest forecasts and warnings on our website or BOM weather app. And you can also follow us on Twitter.