WEATHER UPDATE: Ex-tropical cyclone Owen
04/12/2018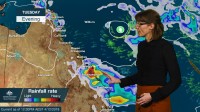 METEOROLOGIST, SARAH FITTON: Hello from the Bureau with an update on tropical cyclone Owen and some relief on the way from hot and dry conditions through Queensland.
Overnight, Owen remained a category 1 cyclone and atmospheric conditions are no longer favourable for further development.
The system will weaken as it starts to move to the westward today and it should become a 'tropical low' later today or overnight.
It will remain a low as it moves towards the Queensland coast later this week, but there's still uncertainty in its longer-term movement.
Meanwhile humidity has increased across eastern Queensland, producing conditions much more typical for this time of the year. Temperatures have finally eased through the south today, but it still remains hot in the north.
We could see severe storms over central districts, the Wide Bay and the tropical inland today. Rainfall will be very welcome over fire sites, but gusty winds and storms could exacerbate local fire conditions.
On Wednesday southeasterly winds will freshen along the coast, in this squeeze between the ex-cyclone and a building ridge of high pressure to the south.
Temperatures will ease further through most of the state and heavy rainfall is a risk along central and northern parts.
By later this week the remnants of the ex-cyclone may approach the coast and could produce heavy rainfall about central and eastern tropical parts. But lots of uncertainty remains in the movement of the system in the longer term.
So residents of Queensland should keep an eye on the latest forecasts and warnings this week on our website or the BOM Weather app. Please follow all advice from emergency services, and you can also follow us on Twitter.