Cyclone Penny has intensified to Category 2 strength in the Coral Sea
04/01/2019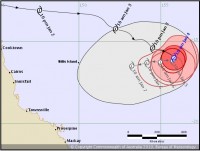 Tropical Cyclone Penny has intensified to Category 2 strength overnight in the Coral Sea and slowed down significantly.
Bureau of Meteorology Weather Services Manager, Dr Richard Wardle, said the latest advice placed Cyclone Penny approximately 1000km northeast of Townsville and indicated delayed coastal impacts, which we are unlikely to see before Tuesday of next week.
"There are still a range of scenarios possible regarding Cyclone Penny's future track and where it may cross the coast, or indeed if it will cross the coast.
"Some models keep the system well offshore after weakening to a low.
"Of course, we'll be watching the situation closely over the weekend and may issue a Flood Watch if the situation changes," he said. "The most likely scenario is convective rainfall which is typical for this time of year, but only isolated moderate to heavy falls are expected.
"The flood risk will be closely monitored and assessed by our hydrologists, but at this stage a Flood Watch—if required—is more likely to be issued early next week."
Elevated river levels are expected to continue for several days for the following catchments in Queensland's far north:
Eastern Cape: Jacky Jacky Creek, Olive and Pascoe Rivers and Lockhart River.
Western Cape: Jardine, Ducie, Jackson and Skardon, Wenlock Embley and Mission Rivers.
For the latest information see Warnings and www.bom.gov.au/cyclone.