Weather Update: Heatwave forecast for southeastern Australia
10/01/2019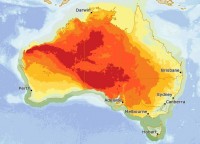 METEOROLOGIST JONATHAN HOW: Hello from the Bureau with a look at the heatwave that is set to affect large parts of south-eastern Australia over the coming days.

Like previous heatwaves over the south-east this summer, hot air will move down from the Pilbara in Western Australia, where it has been sitting quite stagnant over an extended period of time. The town of Marble Bar has now recorded 22 consecutive days above 40 degrees, including the highest temperature anywhere in Australia for 2018, reaching 49.3 degrees on December 27. Marble Bar ended the month with an average maximum temperature of 44.1 – a new national record for December.

This upcoming heatwave will arrive in two bursts. On Friday, hot conditions will affect much of South Australia, Victoria and Tasmania, with warm days for Melbourne and Hobart, and Adelaide will reach 39, part of its run of six consecutive days above 30 degrees.
Severe fire dangers are also forecast for some districts of South Australia on Friday, including the Mount Lofty Ranges. Very high fire dangers for western and central Victoria as well as central and south-eastern parts of Tasmania.

On Saturday, we'll see the heat contract inland and reach into the low 40s along the Murray and into western New South Wales, but it'll be slightly cooler near the coast with onshore winds.

The heat contracts further inland on Sunday, but will re-build over southern WA, and it's this second, more prolonged burst of heat that will make its way through the south-east.

By Monday, maximums will climb back into the high 30s and low 40s across many districts and on Tuesday that heat will start to move into the Canberra and the Sydney area.

On Wednesday, a ridge building over the Bight will start to push that heat away from the southern coastline, but remaining hot through northern Victoria and New South Wales.

So with all this hot weather coming up, remember to ensure that you and those around you stay cool and hydrated. And you can stay up to date with the latest forecasts and any fire weather warnings via the Bureau website, app or Twitter.