Weather Update: Heatwave in South Australia, Victoria and Tasmania
23/01/2019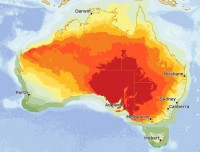 METEOROLOGIST DR ADAM MORGAN: Hello again. It may be the middle of summer, but the scale and extent of heat across Australia over the past few weeks has been extraordinary, and there's another hit on the way for the southeast as we close the week.
Fire danger is already on the rise through parts of South Australia; and Friday in particular will see higher risk for Tasmania and most of Victoria as gusty northerly winds develop ahead of a cool change.
Central Australia has been baking under mostly clear skies, and now that heat is now pushing south.
The South Australia State Emergency Service has issued an Extreme Heat Warning as maximum temperatures along the west coast reach as high as 46°C today—and even a couple of degrees higher inland.
We're seeing severe fire danger along the west coast today, and then on Thursday that increased risk will move further east, with severe to extreme fire danger expected in many districts ahead of a cooler change arriving overnight.
Ahead of that, a top of 45°C is forecast for Adelaide on Thursday; and that would only be a degree shy of the all-time Adelaide record of 46.1°C, set during the heatwave of January 1939.
After a humid top of around 36°C during the day, Melbourne will struggle to get down to a minimum of just 29°C early on Friday morning.
And then as we head into the day, temperatures and winds will be on the rise again, and with many fires already burning across Victoria and Tasmania, Friday will be a very dangerous fire risk day.
Severe to extreme fire danger is expected across most of Victoria and reaching Very High to Severe across much of Tasmania.
Hobart can expect a top of 37°C on Friday, and in Melbourne we've upped the forecast to a sweltering 43°C.
Relief will arrive during the middle of the afternoon on Friday with a cool change.
It's going to pack a punch, and Melburnians can expect the temperature to drop around 15°C in just 20 minutes or so. That's similar to the strong cool change we saw earlier this month on the 4th of January after a 42°C day.
So, keep cool and stay hydrated in the heat over the coming days, and make sure to check on your loved ones.
If you live in a fire-prone area, make sure you're ready to put your bushfire plans into action.
Stay tuned to the Bureau for forecast and warning updates; and please follow all advice from emergency services.