Weather update: Tropical cyclone Savannah near Cocos Islands; tropical lows near East Timor and PNG
15/03/2019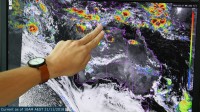 Senior meteorologist, Adam Morgan: Hello again, after what's been a fairly quiet tropical cyclone season so far in the Australian region, it's all beginning to change as the monsoon strengthens to the north of Australia. We've actually already got one tropical cyclone well in the west of our region, just to the west of the Cocos (Keeling) Islands, that passed by yesterday (on Thursday). It's currently a Category 1 system and continuing to move to the southwest in the Indian Ocean.
The other two systems we've had our eye on at the moment are currently a tropical low that's just beginning to develop to the east of East Timor and another tropical low in the Solomon Sea to the east of Papua New Guinea.
Now those two systems we'll be watching closely over the next few days and into early next week; and both have the chance of developing into cyclones.
Let's take a closer look at that one in the Solomon Sea first: These are four computer models showing relative vorticity. What we're looking for is the dark pink colours that shows the tight circulation near the centre of any tropical system. As we head into the weekend, we see broad confidence across all models that the system will move into the northern Coral Sea, and then by early next week (on Monday) we should see that system lie somewhere off the Queensland coast in the northern Coral Sea.
Towards the middle of the week, though, there is a range of scenarios still on the cards: It could either move to the west, into the Gulf, or stay in the Coral Sea itself. So we'll just have to see how this one plays out.
And now across to the west, let's take a look at that other tropical system that's just the east of East Timor: As we head into early next week, we can see there's much less consistency across the computer models in terms of the forecast for this system.
Really only one at the moment is suggesting a significant tropical cyclone formation off the northwest coast; the others aren't quite so confident on that scenario just yet, so there's still a long way to go in terms of the forecast for this system. But the monsoon trough that connects these two systems looks set to stay well offshore to the north of Australia for at least the next few days. So for the Top End, that's hanging out for a drink of rain after very dry wet season so far, unfortunately there's only the very slight chance of monsoonal conditions developing next week.
So as these two tropical systems develop, and with tropical cyclone Savannah already in our region, keep an eye on the Bureau's website and app for all your latest forecasts and warnings over the next few days.