WEATHER UPDATE: Severe tropical cyclone Veronica continues to intensify, 21 March 2019
21/03/2019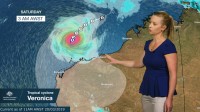 Senior Meteorologist, Andrea Peace: Hello again from the Bureau. In less than 24 hours we have seen tropical cyclone Veronica intensify from a Category 1, to a severe Category 4 system, with sustained winds near the centre of 185 km/h and wind gusts to 260 km/h.
As the cyclone approaches the Pilbara coast over the weekend, communities are likely to experience very destructive winds, very dangerous storm surge and heavy rain that's conducive to major flooding – so now is the time to prepare.
This dangerous system it's slow moving. It will continue to move towards the south-southwest today and intensify to a Category 5 system.
Then on Friday it's expected to take a turn towards the Pilbara coast and while it may weaken to a Category 4 just before reaching the coast, a severe impact is likely over the weekend.
Gales with wind gusts to 100 km/h may begin developing about the coast between Pardoo and Mardie as early as Friday evening, so a cyclone Watch has now been issued.
Given how large and slow moving this system is, there is likely to be a period of very destructive winds with gusts in excess of 165 km/h possible as the cyclone approaches the coast.
Tides are also likely to rise significantly, particularly on the eastern side of the system, with damaging waves resulting in very dangerous coastal inundation.
Widespread heavy rain is also expected, in fact some locations through the Pilbara may record daily totals of 3 to 400 mm, exceeding their average annual rainfall in just a day or two.
So major flooding is likely. So Pilbara residents should now be following the Department of Fire and Emergency Services cyclone preparation guidance and regularly check in for forecast and warning information through the Bureau's website, app and our social media channels.