What La Niña means for Australia's severe weather season
La Niña has developed in the Pacific Ocean. This means the tropical Pacific Ocean and atmosphere above it are locked into a pattern that pushes more moist tropical weather towards Australia. So what will this mean for Australia during the season that brings most of our severe weather?
---
Our forecasts for the upcoming severe weather season are now available. The Severe Weather Outlook covers the tropical cyclone season, which runs from 1 November to 30 April. It also evaluates the likelihood of weather extremes like flooding, heatwaves and dangerous bushfire weather over the months ahead.
Video: Severe weather outlook for the 2020–21 season
La Niña's warmer waters in the Australian region increase the risk of cyclones
The 2020–21 severe weather season will be driven by very different climate settings than the past two seasons.
This year our Tropical Cyclone Season Outlook model predicts a 66% chance of an above-average number of tropical cyclones in the Australian region.
Typically, between 9 and 11 tropical cyclones form each season in the Australian region, with around 4 crossing Australia's coastline. In fact, there has never been a season without at least one tropical cyclone crossing the coast. In recent decades we have seen fewer tropical cyclones in the Australian region. This is consistent with the expected impacts of climate change
The number of tropical cyclones can vary a lot between years, and this can be caused by several factors. One of the main ones is the temperature of waters to the north of Australia, as warm ocean temperatures are the fuel for tropical cyclones.
One of the biggest drivers of change in ocean temperatures is the El Niño–Southern Oscillation, or ENSO.
During La Niña phases of ENSO, the warmest waters in the equatorial Pacific build up in the western Pacific and to the north of Australia. This region becomes the focus for more cloud, rainfall, and an increased chance of tropical cyclone formation.
One of the strongest tropical cyclones to make landfall on the Queensland coast was tropical cyclone Yasi. It coincided with the last significant La Niña in 2010–12.
More rain and greater risk of floods
La Niña can cause changes to much more than just tropical cyclone numbers. The biggest impact is to rainfall, with large parts of northern and eastern Australia typically having much more rain than normal.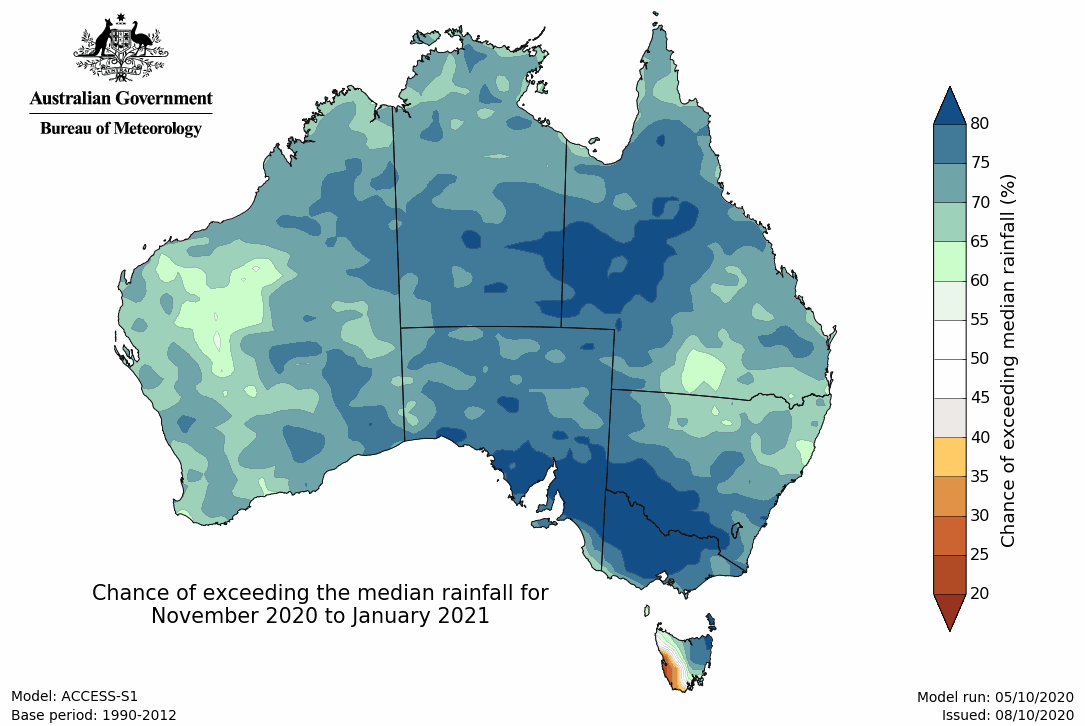 Map: Chance of exceeding median rainfall for November 2020 to January 2021
This outlook increases the risk of widespread and prolonged flooding over large parts of eastern and northern Australia especially in Queensland, New South Wales and Victoria.
The weather patterns associated with La Niña can lead to repeated flooding in the same location or very long duration flooding. In Queensland in the 2010–11 season, some rivers and townships experienced several flood peaks that progressively increased in size over the course of the summer (Gympie, Roma, Dalby, Goondiwindi) and other locations remained at high flood levels for weeks (Rockhampton, St George, Theodore).
The potential for intense rainfall also increases risks of flash flooding in urban area and fast-responding streams.
Ex-tropical cyclones and tropical lows can also bring large amounts of rainfall inland. In 2010–11, moisture from ex-tropical cyclones Anthony and Yasi made it all the way to Victoria, contributing to flooding in the west of the state.
This periodic flooding can cause disruption to inland communities and agriculture. But it's also an important recharge for the environment, such as watercourses through Queensland's Channel Country, and Kati Thanda–Lake Eyre.
Normal potential for extreme heat and bushfire
As we saw over 2019–20 season, severe weather, such as bushfires and heatwaves can have devastating impacts on the Australian community. The climate influences during the last two summers favoured drier conditions over Australia. Long-term drought and warmer conditions increased fire risk.
This season the pendulum has swung toward wetter conditions. La Niña decreases the risk of large-scale and prolonged bushfires. Instead it favours above-average rainfall for much of Australia. The climate outlooks show much of Australia has normal fire potential in the months ahead. This contrasts with the very elevated bushfire risk that we experienced in the preceeding three summers.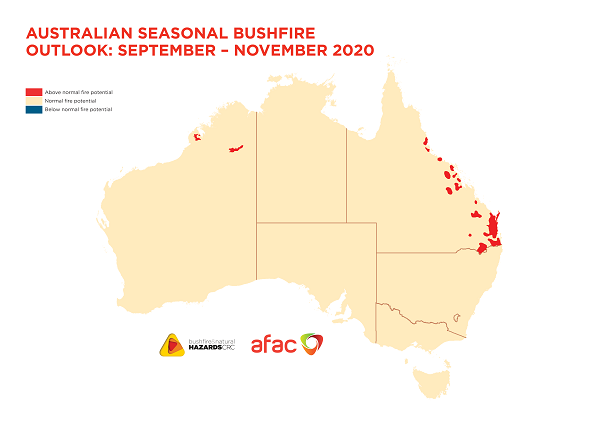 Map: Australian seasonal bushfire outlook for September–November 2020. Credit: Bushfire and Natural Hazards CRC/Australasian Fire and Emergency Service Authorities Council
When we talk about a 'normal' season, it's imporant to remember that southern Australia is one of the most fire-prone places on earth. There has been a long-term increase in extreme fire weather and in the length of the fire season. This season, though there will be fires, the prevailing conditions are unlikely to support fires as severe and as extensive as those we saw last season.
However, a wetter spring can lead to greater grass and vegetation growth. It only takes a few weeks of hot, dry and windy weather to raise the fire risk, so keep an eye on your local fire forecasts and warnings.
Summer also brings heatwaves, which are Australia's most deadly type of severe weather. Warm nights, after hot days, give our bodies little chance to cool down and recover, and heat stress becomes a significant risk to our health.
This summer, rain and increased humidity thanks to La Niña means we may face fewer extreme heat days across the country compared to recent years. However in some parts of southern Australia, while heatwaves may not reach the extreme temperatures of the past few years, they are likely to last longer and be more humid. Both of these increase heat stress, particularly for those most vulnerable, such as the elderly.
More information
Severe weather can disrupt our lives in many ways. It's important to know your weather and know your risk – so you're ready to act and stay safe. Always follow the advice from emergency services on what to do before, during, and after severe weather.
You can stay up to date with the latest forecasts and warnings on our website and subscribe to receive climate information emails.
How will I know if a heatwave is coming?