Newsroom
The Bureau of Meteorology Newsroom has been designed to provide material that can be easily sourced
and referenced by journalists in media coverage of weather, warnings and other information of public interest.
19/10/2021 - National
New research is offering insights into the destructive Black Summer bushfires in 2019-20, which were at times driven by complex interactions between the fire and the atmosphere that produced extreme local fire behaviour.
Cutting edge research led by Dr Mika Peace from the Bureau of Meteorology and the Bushfire and Natural Hazards CRC has used advanced super-computer simulations that combine bushfire behaviour and meteorology to investigate why the Badja Forest (New... read more...
15/10/2021 - NSW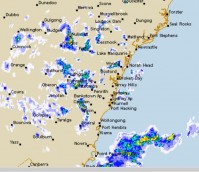 ******LINK TO DOWNLOADABLE ON-CAMERA RECORDING OF TODAY'S MEDIA CONFERENCE (click to download): https://we.tl/t-qIUmkRT5FK


Issued: Friday, 15 October, 2021
Joint Media... read more...
14/10/2021 - VIC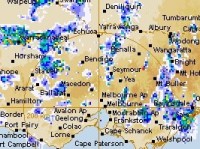 Issued: Thursday 14 October, 2021

Please find following a link to an audio interview with senior meteorologist Michael Laczko explaining the developing weather across Victoria over coming days. Feel free to use excerpts from the interview for publication or broadcast. Content is current as at midday.

0:00-0:15 - Introduction
0:16-0:43 - General weather forecast for Victoria
0:44-2:12 - More detailed forecast... read more...
11/10/2021 - National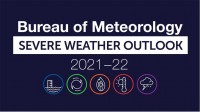 Australians can expect an average, or slightly above average, cyclone season with an increased risk of widespread flooding over the east and north, according to the Bureau of Meteorology's Severe Weather Outlook released today.
The outlook, which also outlines the risk of severe thunderstorms, heatwaves and bushfires, is released in early October every year and looks ahead to the end of April, when the high risk weather season in Australia officially... read more...