Bureau releases response to Technical Advisory Forum report
13/07/2015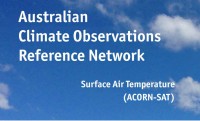 The Bureau of Meteorology today released its response to the report of the Technical Advisory Forum, established to advise the Bureau on the development and operation of the Australian Climate Observations Reference Network – Surface Air Temperature (ACORN-SAT) dataset.
The Technical Advisory Forum released its first annual report on 18 June 2015, making five recommendations to guide the Bureau's approach to continuously improve the ACORN-SAT dataset.
The Bureau has given careful regard to each of the recommendations and is committed to further enhancing the quality and value of the ACORN-SAT dataset. The Bureau will make practical improvements over the duration of the Forum's three year term.
The five recommendations contain a total of 25 sub-recommendations. The Bureau will complete implementation of eight of the 25 sub-recommendations within 12 months.
The Bureau welcomes the Forum's conclusion that data homogenisation plays an essential role in eliminating artificial non-climate systematic errors in temperature observations, so that a meaningful and consistent set of records can be maintained over time.
The Bureau notes that the Forum considers that the analyses conducted by the Bureau reflect good practice in addressing the problem of how to adjust the raw temperature series for systematic errors.
The Bureau is committed to improving public understanding of the ACORN-SAT dataset and methods and will soon release a discussion paper addressing some of the specific questions that have been raised about ACORN SAT by members of the public.
The Bureau's response is published in full here
Background
A Technical Advisory Forum was established in response to one of the recommendations of an independent peer-review of the dataset undertaken in 2011, which expressed overall confidence in the Bureau's practices and found its data and analysis methods to be among the best in the world. The Forum met in March 2015, and released its first annual report in June 2015.
View the Report of the Technical Advisory Forum June 2015
The Bureau is preparing detailed answers to questions about the dataset, which will be available in the coming month.
In the meantime, the following information is available on the Bureau's website: