East Coast Low currently affecting the southern NSW coast
25/08/2015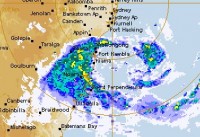 Heavy rains and damaging winds will continue for the Illawarra and South Coast regions today (Tuesday). These conditions are driven by a low pressure system, also referred to as an East Coast Low, that has developed off the southern New South Wales coast.
Bureau of Meteorology Acting New South Wales Regional Director, Mr Stephen Lellyett, said a Severe Weather Warning and a Flood Watch is current for the region and communities affected include Wollongong, Kiama, Nowra, Jervis Bay, and Ulladulla.
"The focus is currently on the Illawarra district and northern parts of the South Coast, with heavy rain and the potential for flash flooding being the main threats," Mr Lellyett said.
Rainfall totals over the past 24 hours to 9am this morning include:
219mm at Foxground
212mm at Tomerong
192mm at Bellambi
170mm at Kiama
159mm at Wollongong
A Flood Watch has been issued for the Illawarra, South Coast and the St Georges Basin, while a moderate Flood Warning is in place for the Belubula River.
"The East Coast Low is expected to weaken considerably overnight Tuesday, with lighter rainfall expected on Wednesday.
Mr Lellyett said that Sydney would be on the fringe of this weather system.
"The heaviest rainfall is expected to be south of Sydney, however, this will depend on the movement of the East Coast Low, and of course we will continue to monitor this carefully," he said.
The public are urged to closely monitor the Bureau's website, tune into the media and local radio, and listen to the advice of emergency services. For storm and flood assistance, contact the NSW SES on 132 500, and for life threatening situations, call Triple Zero (000).
See the Bureau's website for the latest Warnings
The Bureau is also now using Twitter to disseminate significant weather information for the community. Follow us @BOM_NSW.
The Bureau's website remains the most up-to-date and comprehensive official source of information.