Bureau releases Tropical Cyclone Season Outlook for 2015-2016
12/10/2015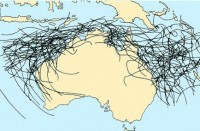 The Bureau of Meteorology has today released its 2015–16 tropical cyclone season outlook, signalling the start of severe weather public awareness campaigns in northern Australia.
Dr Andrew Watkins said this year's strong El Niño is very likely to dominate the coming season.
"The long-term average number of tropical cyclones in Australia during the November to April cyclone season is eleven.This year we expect fewer tropical cyclones than normal because of the effects of the strong El Niño in the tropical Pacific Ocean.
"The El Nino is expected to continue into 2016, and typically delays the date of the first cyclone to cross the Australian coast," Dr Watkins said.
Despite expecting fewer cyclones this season, the Bureau is urging Australians in the tropics to start their cyclone season preparations now.
"While El Niño is typically associated with fewer cyclones and a later start to the season, there has never been a cyclone season without at least one tropical cyclone crossing the Australia coast.
"We know from history the devastating effect even small cyclones have had on our communities," he added, "In January 2013, Oswald caused major flooding for virtually the entire Queensland coast as it tracked steadily south as an ex-tropical cyclone, or tropical low," he said.
Tropical cyclones are low pressure systems that form over warm tropical waters and have at least gale force winds (sustained winds of 63 km/h and gusts of 90km/h or greater) near the centre.
Even tropical cyclones well offshore can have significant impacts on coastal areas. High winds, storm surges and large waves can create dangerous conditions.
Stay tuned for the latest Bureau of Meteorology forecasts and warnings when a cyclone is approaching your area, and follow the advice of your local emergency services agency.
Read the Tropical Cyclone Season Outlook, or for further information about tropical cyclones click here.