Potential for more severe weather in eastern states
15/06/2016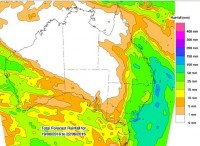 Forecasters at the Bureau of Meteorology are keeping a close eye on the possibility of another East Coast Low forming this weekend.
Dr Andrew Tupper, Centre Director of the Bureau's National Operations Centre said the situation will become clearer in the next few days.
"There is still uncertainty about the timing and extent of the impacts, but we have increasing confidence in a widespread rainfall event developing over southern and eastern Queensland, and inland northern New South Wales.
"Low pressure systems like this low can produce very heavy rainfall, damaging winds and dangerous surf conditions and residents should keep an eye on local forecasts and warnings as the situation evolves.
"It's not unusual to have East Coast Lows develop in fairly quick succession. On average, the eastern seaboard sees seven significant East Coast Lows each year, and most occur between June and August. These systems are major rain producing events for the east coast of Australia," Dr Tupper said.
The development of East Coast Lows is driven by a range of overlapping factors, and forecasting them many days ahead involves a significant amount of uncertainty. All of the major Australian and international computer weather models used by Bureau forecasters are in good agreement about the development of this system although its exact location and intensity will drive the final impact.
As always, Bureau forecasters are working closely with emergency services to help them plan and prepare for potential impacts.
"At this stage, people from the Queensland coast to Tasmania should be aware of the potential for more severe weather this weekend and into next week and stay up to date with Bureau forecasts. If you are in an area expecting severe weather, please follow advice from your local emergency authorities," Dr Tupper said.
The latest warnings and forecasts can be found at www.bom.gov.au