Dr Andrew Johnson appointed as Director of Meteorology
05/09/2016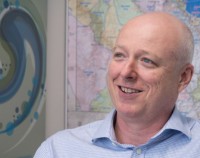 Minister for the Environment and Energy the Hon Josh Frydenberg MP today announced Dr Andrew Johnson as the new Director of Meteorology.
Dr Johnson will be commencing work with the Bureau on 6 September 2016.
Biography
Dr Andrew Johnson is an internationally recognised leader, manager and scientist. Since September 2015 he has been the Principal of Johnson & Associates Consulting, a firm providing environmental and agricultural knowledge services to a diverse range of clients in the private and public sectors both nationally and internationally.
For nearly a decade Dr Johnson was a member of the CSIRO Executive Team where he led the organisation's water, land, atmospheric, marine, biodiversity and urban research. Whilst at CSIRO he also led their Indigenous engagement agenda. For two years he was CSIRO Executive Director of Strategic Change Programs with responsibility for implementing shared services for CSIRO's IT, Finance and HR functions as well as implementing the SAP enterprise resource planning system.
Since 2012, Dr Johnson has been a member of the Australian Government's Independent Expert Scientific Committee on Coal Seam Gas and Large Coal Mining Development (IESC). He was appointed Chair of the IESC in 2015. He is a Non-Executive Director of the Planet Ark Environmental Foundation, a Councillor of the Queensland Futures Institute and a member of the Scientific Advisory Board of the Australian Agricultural Company. He is a former Non-Executive Director of the Rural Industries Research and Development Corporation, Reef and Rainforest Research Pty Ltd and CSIRO Chile, where he was Deputy Chairman and Vice President.
Dr Johnson has served on the Governing Council of the world-renowned International Institute of Applied Systems Analysis in Vienna and as a member International Scientific Advisory Committee of the Great Barrier Reef Foundation. He has also Chaired the Expert Advisory Council for the Northern Australia Ministerial Forum, been a member of the Prime Ministers Northern Australia Land and Water Task Force, a Governor of the Western Australia Marine Science Institution, Co-Chaired an Australian Government review of environmental performance matters in the Port of Gladstone, Co-Chaired the Supervisory Committee of the Australian Centre for Weather and Climate Research and served as a member of the Reef 2050 Advisory Committee.
Dr Johnson has a Bachelor of Agricultural Science (Honours) and PhD from the University of Queensland and a Masters in Public Administration from the John F Kennedy School of Government at Harvard University where he was a Rotary Foundation Scholar. He is a Fellow of the Australian Academy of Technical Sciences and Engineering and the Australian Institute of Company Directors.