Weather Update: Fourth update on tropical cyclone Marcus
17/03/2018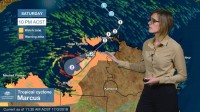 Meteorologist Grace Legge: Hello from the Bureau, Darwin has woken up to strong winds and heavy rainfall as Tropical Cyclone Marcus crosses the coast.
The system passed over Darwin as a Category 2 system with sustained winds near the centre of 95km/hr and wind gusts to 130km/hr as it moves southwest. It will continue to bring heavy rainfall and higher than normal tides through the area, which could produce some minor flooding of low-lying areas.
The cyclone warning zone is from Cape Don to Cape Fourcroy and Point Stuart to Mitchell Plateau in WA, this is where gales, sustained winds greater than 60km/hr can be expected in the next 24 hours. As the system moves down the coast it is likely to interact with land and weaken to a category 1 system, though there is some uncertainty about how it will interact with land.
It will then re-intensity into a Category 2 system as it moves through the Timor Sea and brings destructive winds as it approaches the north Kimberley coast during Sunday. There is a cyclone watch for areas from Mitchell Plateau to Cockatoo Island, where gales are possible in the next 24-48 hours. This system is likely to affect northern parts of the Kimberley and not move as far south as previous systems this season. There is still some uncertainty about the movement of this system and other possible tracks are shown in the grey area. The intensity may also change depending on the track taken, with a possibility it may become stronger if it spends a long time over water.
Tropical Cyclone Marcus will also be bringing some heavy rainfall with it over much of the northwest Top End today and extending into northern and western Kimberley tomorrow. With daily totals of 100-150mm possible through some areas. Flood watches are current for northwest coastal rivers of NT and catchments north of Derby in the north and west Kimberley Districts.
As with many cyclones, the weather situation can change very quickly so listen to the advice of your emergency services and stay up to date with the latest warnings and forecasts on our website, the BoM weather App and you can follow us on twitter.