SPECIAL CLIMATE STATEMENT: Exceptional heat of April 2018
13/04/2018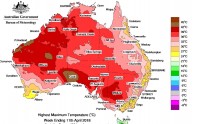 The Bureau of Meteorology has released a Special Climate Statement on the unseasonal hot conditions which affected large parts of Australia during April 2018.
The hot spell impacted mainly northwest Australia in the first week of the month. It then moved southeast to affect the states of South Australia, New South Wales and Victoria – which all set April temperature records. These were:
• 42.2°C at Nullarbor, South Australia on April 9
• 40.5°C at Pooncarie, New South Wales on April 10
• 39.9°C at Mildura and Hopetoun, Victoria on April 10 and April 11 respectively
Many individual locations also had their hottest or equal-hottest April day on record, including Sydney and Adelaide. Records have also been set for prolonged heat. These include:
• Adelaide recording three consecutive days above 35°C
• Mildura recording four consecutive days above 35°C – a Victorian record for the month of April
Bureau of Meteorology Climatologist Dr Blair Trewin said the extent of the heat was exceptional, with above-average maximum temperatures extending almost nationwide.
"The heat had been building up in north western Australia since monsoon rains ended in mid-March. North westerly winds then brought the hot air mass southeast at the start of this week, which is when we saw the impacts on South Australia, Victoria and New South Wales" Dr Trewin said.
The Bureau of Meteorology produces Special Climate Statements to document significant weather and climate events. They serve as historical record and inform the public on the broader historical and climatological context for these events.
A copy of the Special Climate Statement can be found on the Bureau of Meteorology website.