Unprecedented heat and fire weather conditions in Queensland this week
30/11/2018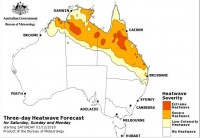 Significant heat records have tumbled in an extraordinary week of widespread and protracted heatwave conditions combined with Catastrophic fire dangers for eastern Queensland.
Bureau of Meteorology State Manager for Queensland, Bruce Gunn, said the severity of these conditions is reflected both in the number of records broken and number of fires, many of which are still burning.
"It is a tribute to the hard work and dedication of firefighters, emergency services personnel, volunteers and the actions undertaken by members of the community that we have not seen any loss of life during the past week, but we are by no means through this yet," he said.
"While conditions have eased following the Catastrophic Fire Danger Ratings observed on Wednesday, Severe to Extreme heatwave conditions are expected to continue into next week extending into the northwest and southeast of the state.
"We also wanted to clarify that while Catastrophic conditions have been observed in Queensland in the past, this was a very short-lived event which occurred in Birdsville (19 Sept 2012), for about an hour.
"On Wednesday (28 Nov 2018), Rockhampton Airport recorded Catastrophic conditions for approximately three-and-a-half hours (between 1.30-5pm local time). This was the first time this district has recorded Catastrophic conditions and the most prolonged event in Queensland since the implementation of the current Fire Danger Rating System in 2010.
"Daytime temperatures are expected to peak around 8-10 degrees above average in the southeast on Sunday where Severe heatwave conditions may develop in heavily populated parts in the southeast, posing a health risk to the vulnerable in the community," he said.
There are some early indications that temperatures in central and northern Queensland may return to closer to average by Thursday of next week.
So far in this event, many November temperature records have been broken including Cairns Airport, which has broken its previous November maximum temperature record for four consecutive days.
A number of sites recorded their highest temperature in any month, breaking all previous records. The Bureau will publish a Special Climate Statement next week involving further climate analysis.
For further information on forecast heatwave conditions see: www.bom.gov.au/australia/heatwave/