Severe Tropical Cyclone Owen weakening after crossing Qld coast this morning
15/12/2018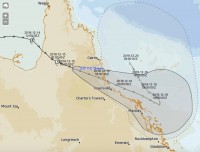 Tropical Cyclone Owen is continuing to weaken after crossing the Queensland coast in the early hours of this morning. The system made landfall approximately 70 kilometres south of Kowanyama around three o'clock as a severe, category 3 tropical cyclone.
As it crossed the coast, the cyclone produced sustained winds of 120 kilometres per hour and gusts of 170 kilometres per hour. One observation site between Kowanyama and Normanton recorded 172mm of rain in three hours.
Since crossing the coast, Tropical Cyclone Owen has maintained a broadly south easterly track and is expected to weaken to a tropical low as the afternoon progresses.
"­So far, Owen's path has kept it largely clear of populated areas, which is obviously good news however, this event isn't over yet and when it reaches the east coast it will bring widespread heavy rain and possibly damaging winds to some North Queensland communities," Bureau of Meteorology Queensland Manager, Bruce Gunn said.
On current forecasts, the system is expected to cross the east coast north of Townsville on Sunday morning. The deep low pressure system is expected to bring very heavy rainfall, which could trigger both riverine and flash flooding.
A Flood Watch is current over a broad area, including southern Cape York Peninsula and coastal catchments from Cape Tribulation to Saint Lawrence.
"We're urging people not to become complacent, we have been saying the flooding this cyclone brings could be more damaging than the cyclone itself and that remains the case, so people need to keep watching the warnings," Mr Gunn added.
Full details of current Warnings and Flood Watches are available at bom.gov.au.
Note for Media: A series of satellite video images of the cyclone crossing the coast have been compiled and are available for download by media organisation here https://we.tl/t-sivWq3B6Sf