WEATHER UPDATE: Heatwave in southern and central Australia
18/01/2019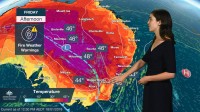 SENIOR METEOROLOGIST, DIANA EADIE: Hello from the Bureau of Meteorology. We're here with an update on the ongoing heatwave and elevated fire conditions.
Severe heatwave conditions are continuing today over a large part of New South Wales, extending into South Australia, Queensland and the Northern Territory.
The temperature in Noona in NSW only dropped to 35.9 degrees last night, an all-time minimum temperature record for Australia. Broad areas will exceed 42 degrees today, continuing a trend that started on Monday. Canberra is forecast to reach 40 degrees today for the fourth day in a row, something that hasn't been observed since 1939 when records began.
A trough is expected to move over southern and central Australia today. A fresh and gusty wind change and the potential for dry lightning will accompany the trough, increasing fire dangers over parts of New South Wales. Severe fire dangers are expected over Southern Slopes and Ranges, with very high fire dangers elsewhere. A fire weather warning is current.
A cool change will provide relief to southern and central parts during the weekend, however hot temperatures will continue over central eastern Australia.
Severe heatwave conditions are expected to develop over Western Australia this weekend with areas about the southern coast experiencing up to 14 degrees above the average. This heat will spread into South Australia on Tuesday and Wednesday, before returning to the southeast mid to late week.
That's all for now. Keep informed of the advice of your local health authorities and emergency services; updated forecasts and warnings can be found on our website and on social media.