Weather update: extreme heat through southeast Australia
25/01/2019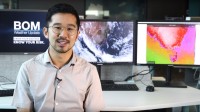 Meteorologist Jonathan How from the Bureau of Meteorology's National operations Centre: Hello from the Bureau's Extreme Weather Desk. We're seeing extreme heat through southeastern parts of the country. Yesterday we saw all-time records being broken across South Australia with 49.5°C being the highest temperature recorded yesterday—that was at Port Augusta—and Adelaide recorded its highest temperature on record with 46.6°C.
For today, we're seeing that heat through inland New South Wales, Victoria and Tasmania and Melbourne could see its hottest day in almost ten years, getting up to 44°C. Also very warm through Tasmania as well: Hobart could get up to 37°C.
But the real heat is lying through inland Victoria and also Western New South Wales —getting up into the high 40s through places like Mildura, Swan Hill and Broken Hill.
With any kind of hot weather we do see elevated fire risk and for today we are seeing Severe to Extreme fire dangers through Victoria and Very High to Severe fire dangers through Tasmania; and looking at the satellite picture you get a sense for the dangerous fire and heat situation playing out today.
We are seeing very hot and gusty northwesterly winds ahead of this cloud band and within the cloud band itself we are seeing some dry lightning strikes which could spark up some fires throughout today. The good news is that there is a cool change on the way: It'll move through Adelaide in the early hours of Friday morning and it's expected in Melbourne around 3 o'clock in the afternoon, but it will bring quite a gusty southwesterly change with that.
For Hobart, the temperature decline would be a little bit more gradual and we'll see the temperature decline through the evening. And that cool change will move through Victoria through the rest of Friday and into Saturday, but unfortunately it won't quite make it into New South Wales and the AC T before the weekend.
So a hot day for Canberra tomorrow—up to 40°C—up into the low 40s for Western Sydney as well. And we will see that cool change move through sometime on Sunday afternoon.
So with this hot weather around, remember to stay cool and hydrated; and with elevated fire danger conditions, remember to follow the advice of your local fire services at all times.
And you stay up-to-date with the forecast via the Bureau website or on our app.