WEATHER UPDATE: ex-tropical cyclone Veronica, Tuesday 26 March 2019
26/03/2019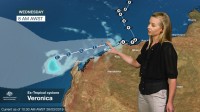 Senior forecaster, Andrea Peace : Hello from the Bureau with our final update on the now ex-tropical cyclone Veronica, which weakened to a tropical low early this morning (Tuesday) and is no longer producing gale force winds.
While the eye of Veronica didn't cross the coast, the effects were certainly felt. The wind and very heavy rainfall has now eased, however road conditions may remain hazardous today and communities may be isolated as flooding continues.
Flood Watches and Warnings remain in place for localised flooding in parts of the central and west Pilbara coast and adjacent inland areas, particularly around Marble Bar.
Please do not move through flood waters, if it's flooded, forget it.
On the back of the 1 in 100 year, 24 hour total of 360 mm that was recorded at Upper North Pole in the 24 hours to 9am yesterday, more heavy rain fell in the 24 hours to 9am today, with Upper North Pole recording a further 61 mm, and 137 at Port Hedland.
More showers are expected about the western Pilbara coast today, before easing later in the day.
And ex-tropical cyclone Veronica continues to move towards the west-southwest, parallel to the Pilbara coast, but it's not expected to re-intensify into a tropical cyclone because the atmospheric conditions in this area are just not conducive to intensification.
So even though the system has now passed, if you're in the area, please stay up to date with the latest flood watches and warnings on the Bureau's website and BOM weather app.
And follow all advice from emergency services.