Chance of El Nino lowers but positive Indian Ocean Dipole remains likely
25/06/2019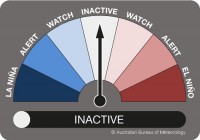 The Bureau of Meteorology has lowered its ENSO status from "El Niño WATCH" to "INACTIVE".
This means the chance of an El Niño forming in the coming months has fallen below 50 per cent, and neutral ENSO conditions have now become more likely than not. The normal likelihood of an El Niño in any given year is around 25 per cent.
Head of Long-Range Forecasting at the Bureau, Dr Andrew Watkins, said conditions in the Pacific Ocean had eased in recent weeks.
"We've been monitoring the Pacific Ocean closely, and indicators have now eased away from El Niño thresholds," Dr Watkins said.
"Australian and International climate models are predicting ENSO-neutral conditions will persist over the coming months."
While the risk of El Niño has reduced, Dr Watkins said observations off Australia's west coast indicated the early stages of a positive Indian Ocean Dipole were underway.
"The main climate driver for winter and spring will be a positive IOD, with most international models indicating a strong chance we'll see further development during the winter months.
"A positive IOD traditionally results in below average winter-spring rainfall for much of southern and central Australia."
Other positive IOD impacts include warmer days in the west and south of the country.
More information, including an IOD video and infographic, is available from http://www.bom.gov.au/climate/iod/
See the current three-month outlook for Australia here http://www.bom.gov.au/climate/outlooks/#/overview/summary