Tigers and Cats to pay their dews for AFL Grand Final glory
20/10/2020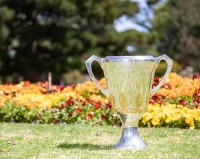 Queensland's sub-tropical weather – including the much-talked-about dew point readings – could become a deciding factor as to whether Richmond or Geelong deals best with the impacts of the Gabba conditions to lift the AFL Premiership Cup on Saturday night.

The AFL Grand Final Day forecast could also impact team preparations with possible showers, the chance of a thunderstorm and a maximum temperature of 29C likely for Brisbane.

The conditions at the traditional home of the AFL Grand Final – Melbourne – could also be wet, but with a much lower maximum temperature of 16C.

Senior Meteorologist Laura Boekel said while Brisbane is renowned for its stormy and sticky conditions at this time of year, it is the often-discussed dew point readings that could cause headaches for the players.
"The AFL world is often abuzz about the Gabba dew points making it slippery for players to handle the Sherrin, but it is the mix of heat and moisture that comes with elevated readings that can also quickly fatigue teams, especially ones such as the Tigers and Cats that come from the relatively temperate conditions of Victoria," Ms Boekel said.

"Dew points can be quite a technical weather reading to explain, but effectively Brisbane tends to see a dew point of about 14.5 in October at 6pm – just before the AFL Grand Final start time of 6.30pm (AEST) – and most people tend to feel comfortable in these conditions."
AFL/VFL Grand Final weather facts:
Last year's AFL Grand Final: Maximum temperature 14.9C – Richmond v GWS Giants, 28 September, 2019 (Richmond by 89 points)
Hottest Grand Final Day on record: 31.3C – Hawthorn v West Coast, 3 October, 2015 (Hawthorn by 46 points)
Coldest Grand Final on record: 11.3C – Collingwood v Melbourne, 20 September, 1958 (Collingwood by 18 points)
Wettest Grand Final on record: Rain to 9am 21.1mm and from 9am 16.3mm, Collingwood v Richmond, 1 October, 1927 (Collingwood by 12 point)
"Elite athletes running around in warmer and more humid conditions than they are used to could start feeling the physiological effects more than the spectators sitting at the ground.
"These effects will become more pronounced as the dew point rises and the risk of player fatigue becomes a greater risk.

"As the dew point temperature starts to climb closer to 20, which it can in Brisbane in October, conditions can become muggy and people just going around their normal activities can start to feel uncomfortable: elite athletes could suffer even more in such weather (as shown as a guide in the table below)."
As the BOM blog,
Feeling hot and bothered? It's not the humidity, it's the dew point,
explains: "The dew point is the temperature to which air must be cooled in order to produce condensation (dew). It represents how much moisture is in the air: the higher the dew point temperature, the greater the atmospheric moisture content … so in warm, sultry weather, moisture in the air can impede the body's ability to cool down. One of the ways your body cools itself is by the evaporation of moisture from your skin.
"When the air is moist, this process slows down – and you feel hotter for longer. So the higher the dew point, the longer it takes for your body to cool itself.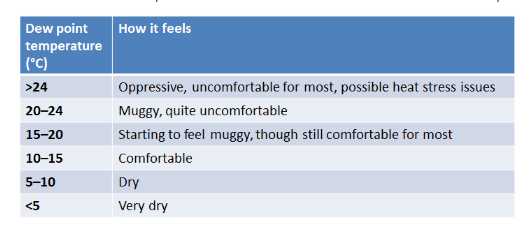 "How you experience dew point varies, depending on your metabolism and the conditions you're accustomed to, but it is possible to create an index of how an average person may feel at a certain dew point.

"If you're used to the tropics, you may find the ranges in this scale low—particularly during spring and summer where dew points are commonly above 24C. On the other hand, if you're from southern Australia, you might find these ranges high."

Ms Boekel said while the mean 6pm dew point at Brisbane in October is 14.5, and at 9pm 14.8, and that Melbourne can get similar readings at that time of year, it is the corresponding temperature, especially the apparent (or "feels like") temp, that could make all the difference to the players.

"The Melbourne (Olympic Park) dew point reading at 9pm on Saturday – when the AFL Preliminary Final was being played in Brisbane between the Lions and Cats – was 11.2 with an apparent temperature of 11.2 and a relative humidity of 87 per cent. At the same time in Brisbane, the dew point reading was 15.2 with an apparent temperature of 21.9: relative humidity was 68 per cent," Ms Boekel said.
"The difference in the apparent temperature of 10C between Melbourne and Brisbane highlights why the players would feel more weather-related strain on their bodies in Queensland compared to a game being played in Victoria.

"The Gabba conditions are likely to be very different for the Victorian clubs battling it out in the AFL Grand Final because since digitised dew point records began in Melbourne there has been no instance of a 3pm dewpoint of 14.5 or above on AFL Grand Final Day. There are only five September days when it has occurred at all – one of which, 10 September 1988, was a semi-final day.

"Aussie rules is traditionally seen as a winter sport with the AFL Grand Final usually played at the MCG in springlike conditions, but this year's finale could take on a definite sub-tropical feel, especially with the chance of a trademark Brisbane thunderstorm making conditions even more challenging.

"However, like the preliminary final played at the Gabba last Saturday night, conditions were quite mild with a 9pm temperature of 21C, an apparent temperature of 21.7C – with a dew point of 15.5 – which didn't make for exhaustive conditions for the Lions and Cats. But it could be a different story for the AFL Grand Final.

"The Brisbane Lions were obviously going to be the team that would have been more acclimatised to any oppressive weather that the Gabba could have thrown their way, but it will be interesting to see if the Cats or Tigers have adjusted to their new hunting grounds after COVID-19 caused them to call Queensland home earlier this year."