First Cyclone Watch Issued
09/04/2021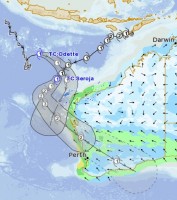 First Cyclone Watch issued
People on the coast between Coral Bay and Lancelin should prepare now for a period of destructive winds that could cause significant damage to homes and property, and heavy rain that could lead to flash flooding.

Tropical Cyclone Seroja is expected to cross the coast as a Category 2 system late on Sunday or early Monday.
The area at greatest risk is between Jurien Bay and Carnarvon, but people in all areas between Coral Bay and Lancelin are urged to monitor weather warnings and be prepared to take action, especially as many people in this area are unfamiliar with cyclones, which typically affect tropical regions north of Carnarvon.
Prior to TC Seroja's expected crossing a brief period of severe weather is possible further north, after tropical low 23U strengthened into Tropical Cyclone Odette overnight.
There may be a period of strong to gale force winds on the west side of the North West Cape during Saturday afternoon-evening as the system, which is only expected to be a short-lived cyclone, moves rapidly in nearby waters.
TC Seroja's Sunday impacts
Wind gusts equivalent to a Category 2 tropical cyclone, (gusts of 125-150 km/h), are expected close to the track of Seroja near the coast. Gusts up to 125km/h may extend inland as far as the northern Wheat belt and gusts up to 100km/k are likely to extend into the Goldfields.
Winds this strong are rarely felt this far south. While most winds will be roughly equivalent to the strongest winds experienced in an intense winter storm in the south west there is a chance that near the coast winds may be slightly stronger.
Areas close to the track of Seroja are likely to experience a short period of very heavy rain that may lead to flash flooding. Rain could fall so hard and fast the expected rain rates typically only have between a 10% to 2% chance of occurring in a year.
Tides are expected to rise above the normal high tide mark along the west coast at times during Sunday and Monday. Depending on Seroja's track and intensity, a dangerous storm tide is possible in Shark Bay.
TC Seroja will be moving fast (around 50 kilometres per hour) as it makes landfall. This means the dangerous weather will appear very quickly but also pass quickly, lasting around 3 hours.
TC Seroja's Monday impacts
Heavy rain and damaging winds (equivalent to a Category 1 tropical cyclone or a severe winter front) will extend further inland through the Wheat belt and into the southern Goldfields during Monday, as Seroja moves quickly across the south of the state. People in those areas are urged to stay up to date with forecasts and to be prepared for a period of severe weather on Monday.
Check all weather warnings here and cyclone information here.
View the tracks of both systems here.
MEDIA CONTACTS
Media and Communications Manager, WA
Saskia Pickles
Direct: 08 9263 2201
Mobile: 0429 729 494
Email: saskia.pickles@bom.gov.au
WA Meteorologists: 08 9263 2252 (24 hrs)

National media hotline: +61 3 9669 4057
National media mailbox: media@bom.gov.au
Newsroom: media.bom.gov.au