Cyclones, flooding risk highlighted in Bureau's severe weather outlook
11/10/2021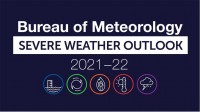 Australians can expect an average, or slightly above average, cyclone season with an increased risk of widespread flooding over the east and north, according to the Bureau of Meteorology's Severe Weather Outlook released today.
The outlook, which also outlines the risk of severe thunderstorms, heatwaves and bushfires, is released in early October every year and looks ahead to the end of April, when the high risk weather season in Australia officially ends.
Bureau Senior Climatologist Greg Browning said while severe weather could occur at any time of the year, we are now entering Australia's peak high risk weather season.
"Many climate drivers are indicating that it could be an active season across parts of Australia," Mr Browning said.
"Warm waters to the north of the continent, and the sea surface temperature patterns across the tropical Pacific and Indian oceans, are driving our outlook towards more rainfall for eastern and northern Australia.
"It is also likely that the first rains of the northern wet season will arrive earlier than normal for much of northern Australia.
"On average, Australia gets around 11 tropical cyclones in a season, of which four generally cross our coastline. With warmer than average seas around northern Australia this year, the number of tropical cyclones is likely to be close, or slightly above average.
"And with an already wet landscape and above average rainfall likely, there is an increased risk of widespread flooding for eastern and northern Australia.
"This summer, with above average rain, more cloud and higher humidity, the number of individual extreme heat days are likely to be lower than we've seen in recent years.
"But the potential for bushfires and severe storms remains near average."
Mr Browning said Australians could not afford to be complacent this severe weather season.
"Severe weather can disrupt and endanger lives in many ways, that is why the Bureau is asking the community to 'know your weather, know your risk'," he said.
"That means understanding the kinds of severe weather that can impact the area you live in and what you should do when it occurs.
"Today's release of the Severe Weather Outlook is also a timely reminder for all of us to follow the advice of local emergency services before, during and after severe weather.
"Another way Australians can keep themselves safe is by staying up-to-date with the latest forecast and warnings on the Bureau's website or by downloading the BOM Weather app."
For the full Severe Weather Outlook 2021-22 visit Australian tropical cyclone season outlook (bom.gov.au).
On-camera grabs of Bureau Senior Climatologist Greg Browning speaking about the Tropical Cyclone and Severe Weather Outlooks for media use are available for download here: https://wetransfer.com/downloads/98ce681a22d5625710eda99465ad446b20211008062341/0ecdd7dbf9e325b4eb465bc26ec993e720211008062444/618b5b
Further resources: