Heavy rain and flooding continue across south-east Queensland
25/02/2022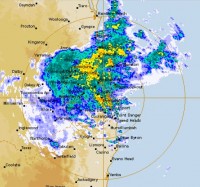 The Bureau of Meteorology has issued severe weather warnings for south-east Queensland with heavy rain expected to continue across the region into Saturday morning.
A Flood Watch continues for catchments across southeast Queensland and several Flood Warnings are current.
Emergency warnings are in place at several locations including the Sunshine Coast, Lockyer Valley and Toowoomba.
Locally intense rainfall is occuring and, with many catchments saturated, there is an increased risk of dangerous and life-threatening flash flooding and landslides.
Damaging wind gusts are expected to develop along the south-east Queensland coast and nearby inland areas today.
There is the potential that this weather event could extend into Saturday morning before the severe weather risk begins to ease.
This is a dangerous and still unfolding weather and flood situation.
Communities should be prepared for potential impacts and are encouraged to keep up to date with the latest forecasts and warnings on the Bureau's website and BOM Weather app, and to follow the advice of emergency services.
Remember to know your weather, know your risk. For the latest weather information visit www.bom.gov.au