Flood warnings in place across south-east Queensland
26/02/2022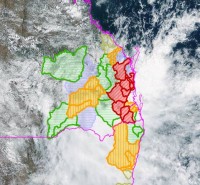 Released: 10:00am AEST
The Bureau of Meteorology's severe weather warning for south-east Queensland remains current for the dangerous and unfolding weather and flood situation. An increasing number of major flood warnings are current.
Heavy rain is expected to continue into at least Sunday and possibly Monday, before it will begin to ease. With many catchments saturated, there is dangerous and life-threatening flash flooding and landslides, and emergency services are advising residents to stay off the roads today and monitor the situation closely.
Flooding impacts are being seen across the region and into northern New South Wales. Major flood warnings are current for several rivers across the region including the Mary River, Mooloolah, Noosa and Maroochy rivers, Upper Brisbane and Stanley rivers, Laidley, Lockyer and Warrill creeks and Bremer and Logan rivers. Flooding is impacting populated communities including Gympie, Maryborough, Ipswich, Sunshine Coast and parts of Brisbane.
Damaging wind gusts continue along the southeast Queensland coast and nearby inland areas.
Communities should be prepared for flood impacts and are encouraged to keep up to date with the latest forecasts and warnings on the Bureau's website and BOM Weather app, and to follow the advice of emergency services http://www.bom.gov.au/qld/warnings/