Rainfall and flooding continues across south-east Queensland and northern New South Wales
01/03/2022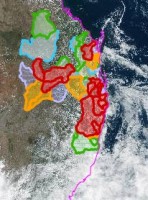 Issued: 1.20pm AEDT on Tuesday 01 March 2022
The Bureau of Meteorology's severe weather warnings for south-east Queensland and north-east New South Wales remain current for the dangerous and unfolding weather and flood situation. Numerous major flood warnings are current in Queensland and NSW.
Severe thunderstorms with large hail, damaging winds and locally heavy rainfall are likely around south-east Queensland from Wednesday, persisting into the weekend. This could lead to localised rises in creeks and streams.
Major flood warnings are in place across Queensland, including the Lower Brisbane and Bremer Rivers, Warrill Creek, Logan and Albert Rivers, Mary River, Condamine and Balonne Rivers and Moonie River.
On Monday morning the Lower Brisbane peaked at 3.85 metres at Brisbane city and coincided with a high tide. Another flood peak of 3.35 metres occurred at 10am on Tuesday morning. Minor to moderate peaks will continue on the high tides on Wednesday.
In New South Wales, major flood warnings remain in place for the Tweed, Wilsons, Richmond, Clarence and Orara Rivers.
A low-pressure system is forming off the northern NSW coast and will move towards the NSW Central Coast. As it deepens into an East Coast Low it is likely to impact the NSW eastern and south coasts, Ranges and Hinterland Regions, impacting residents from Tuesday night, into Thursday.
Thunderstorms with damaging winds and heavy to torrential rain may lead to flash flooding along areas of the coast including the Hunter, Sydney, Illawarra and the South Coast from Tuesday, extending into Thursday.
Severe warnings have also been issued for abnormally high tides and damaging surf from the Hunter Coast to the South Coast including Sydney and the Illawarra.
With many catchments saturated, flash flooding and landslides are occurring. Many NSW dams at or near capacity. Emergency services are advising the community to stay off the roads and monitor the situation closely.
Communities should be prepared for flood impacts and are encouraged to keep up to date with the latest forecasts and warnings on the Bureau's website and BOM Weather app, and to follow the advice of emergency services.
For more details, please visit www.bom.gov.au/qld/warnings and www.bom.gov.au/nsw/warnings.
ENDS