Hot summer in northern, southern and western Australia and wet in the east as records fall
02/03/2022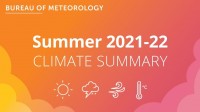 Australians sweltered through a hot summer in northern, southern and western parts of the country, with several heat records being set in parts of Western Australia.

The Bureau of Meteorology's latest summer climate summary shows Western Australia saw its 7th warmest summer since records began in 1910, with Perth experiencing its hottest summer on record.

Bureau of Meteorology climatologist Dr Andrew Watkins flagged two notable records set in Western Australia in January, saying "These hot and dry conditions saw Onslow Airport equal the record of Australia's hottest day with 50.7 degrees Celsius on 13 January and Perth report a record stretch of 6 days at or above 40 degrees Celsius."

"Victorians also experienced temperatures up to 2 degrees above the 1961-90 average over summer in some areas, with January night-time temperatures the warmest on record across most of the state. Tasmania also recorded its 5th warmest summer on record since 1910."

"La Niña in the tropical Pacific played a role in what we saw in summer. But there were also persistent high-pressure systems in the Great Australian Bight. These enhanced the flow of moist air onto the east coast, but also meant drier than usual conditions in the south-west and south-east of Australia, including Tasmania, which had its fourth-driest summer on record."

Summer was wetter than usual for most of South Australia, which recorded the fourth-wettest January on record as major transport routes were disrupted by flood waters.

"Tropical moisture throughout the second half of January continued to bring heavy, often intense rain to many parts of South Australia, resulting in large areas of flooding, some areas recording more than five times their January average rainfall," Dr Watkins said.

"Summer rainfall was also above average for most of New South Wales (excepting the far south-west) and in south-eastern Queensland. These regions had the wettest February since at least 1893, mostly caused by a single destructive event that caused widespread flooding. In fact, parts of south-east Queensland saw 175% of the summer average rainfall in the last 6 days of February."

Dr Watkins said the Bureau was actively monitoring flood risks across the south-east of Australia after repeated seasons of wetter-than-average conditions, encouraging people to remain alert over autumn.

"We strongly encourage people to stay up to date with the latest forecasts and warnings on the Bureau's website, the BOM Weather App, and our social media channels."

An overview of the autumn outlook is available here, and an explainer of the La Niña phenomenon is available here. Technical explanations of the current outlook and associated climate drivers are available here.

You can also find out more at the Autumn 2022 Climate and Water Update webinar, 8 March 2022: Register now

An audio news release is available here and additional requests can be made via media@bom.gov.au.